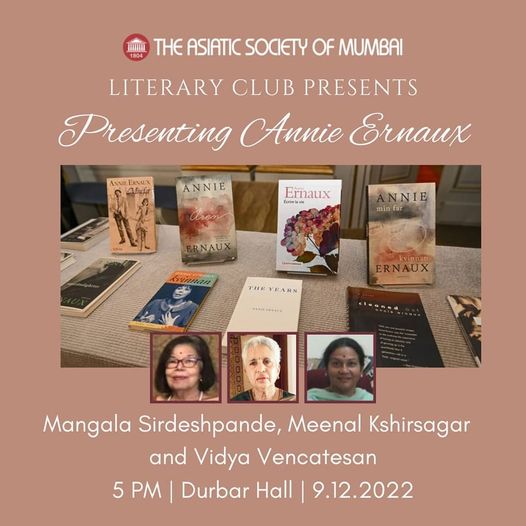 The Literary Club of the Asiatic Society of Mumbai is delighted to invite you to a presentation of the works of the

French Nobel prize winning author Annie Ernaux

on Monday

5th December 2022 at 5 pm.
Annie Ernaux is the first French woman to win the prestigious Nobel Prize for Literature this year, succeeding fifteen Laureates from France, the country with the highest number of Nobel prizes for Literature.
To quote President of France Emmanuel Macron: "For the past fifty years, Annie Ernaux has been writing the novel of our country's collective and intimate memory. Her voice is that of the liberation of women and the forgotten."
This is an author who stands at the intersection of literature, sociology and history. She is known for the foregrounding of issues of gender, class and sexuality, raising questions about the place of a woman writer who is marginalised by her class origins as well as gender in contemporary Western cultures.
The presentation in English of her works will be led by three Francophone women members of the Asiatic Society, who have been teaching French Literature at the University of Mumbai to students at the Master's level - Professor Mangala Sirdeshpande Hon. Secretary, Meenal Kshirsagar Vice President of the Society and Professor Vidya Vencatesan Head, Department of French.
All are invited to this presentation which will be followed by a discussion. We welcome insights and questions from the participants.
Tea will be served at 4.30 pm.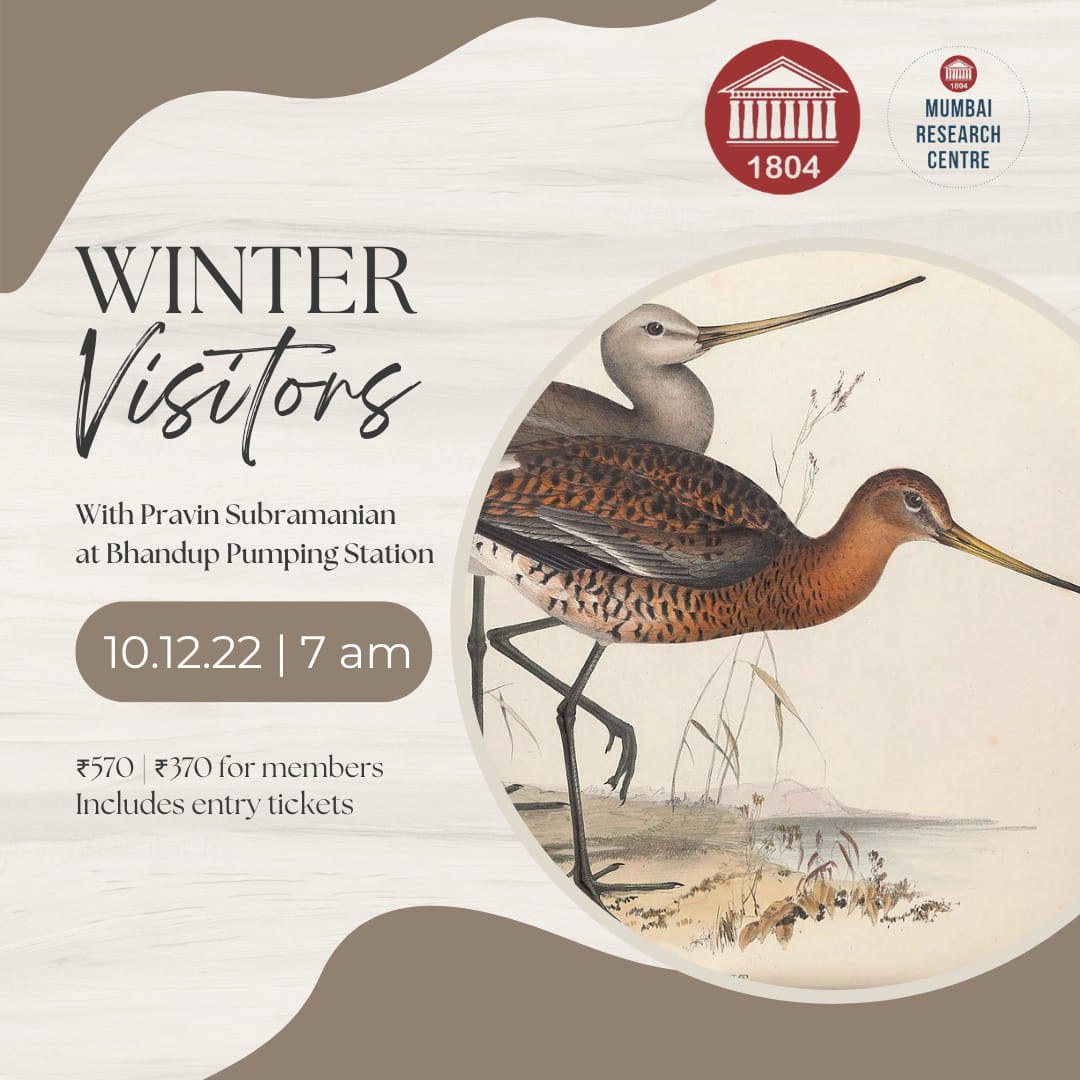 The Mumbai Research Centre of the Asiatic Society of Mumbai is pleased to present a nature walk with Mr Pracin Subramanian to know more about Mumbai's winged winter visitors. The Bhandup Pumping Station provides access to the Thane Creek Flamingo Sanctuary, and has long been a favorite for watching migratory birds. The creek and its adjacent wetland and mudflats lie close to the Central Asian Flyway, through which birds like pipits, godwits, eagles, ducks, plovers, ospreys, starlings, pochards, harriers, geese, shelducks, falcons, stonechats, buntings, shovelers and rosefinches migrate south from Siberia. Mumbai's warm climate and abundant biodiversity make it a suitable wintering area for these birds, along with subcontinental migrants like egrets, herons, ibises, spoonbills, storks and flamingos.
Pravin Subramanian has been birding for 22 years and in that time, has explored, spotted and sometimes photographed birds in all states except the Seven Sisters.
He has assisted the Sanjay Gandhi National Park in their avian census, helping quantify and make sense of trends in birdwatching checklists.
He is an expert in identifying birds by sound and collects folk lore about wildlife. Aside from his feathered pursuits, he runs a book club named

SwapBook

and has organised numerous book exchange meet ups, hosted the highly successful TwiceTold for helping second hand book sellers and collects books on Indian politics and natural history.
(includes entry fee but not camera fee)
ENDOWMENT LECTURES SECTION 
Aroon Tikekar Fellowship Award and Guest Lecture
MRC Lectures
Foundation Day