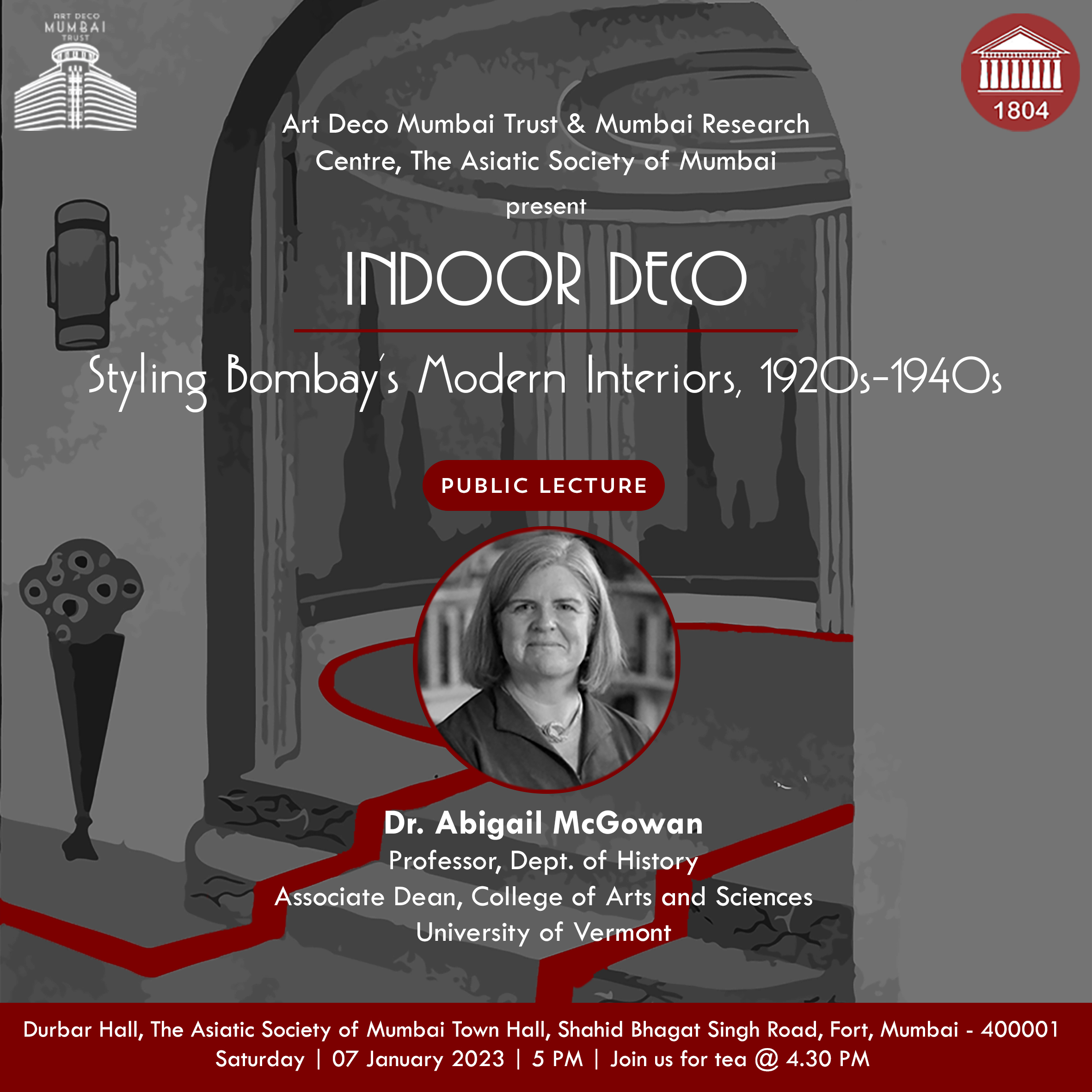 Art Deco Mumbai Trust and Mumbai Research Centre, The Asiatic Society of Mumbai present "Indoor Deco: Styling Bombay's Modern Interiors, 1920s – 1940s" a Public Lecture by Dr. Abigail McGowan
Date and Time: Saturday, 7 January 2023, 5:00 PM IST
Address: Durbar Hall, The Asiatic Society of Mumbai Town Hall, Shahid Bhagat Singh Road, Fort, Mumbai – 400001
The turn of the 20th century transformed several facets of life in Bombay. Modern amenities, travel and ideas shaped the city into the metropolis we recognise today. Key among these transformations were Bombay's homes and how they were decorated, and the style we know as Art Deco had much to do with this. With its machine-age aesthetic, it is well known that Art Deco reshaped Bombay's streetscapes in the late colonial period. But it also brought a similarly important – but lesser known – transformation to its interiors. Join our speaker Dr. Abigail McGowan as she explores how the Deco style brought a wholly new approach to interior design.
This new home decor depended on sleek lines, the transformative power of electricity, and novel materials like metal, glass, concrete, and veneer. In the newly emerging apartments in the city – and through advertisements – designers, furniture makers, and suppliers now offered holistic plans that integrated flooring, lighting, furnishing, fabrics and wall treatments. Deco moved indoors to transform lived spaces and set new standards for interior design. Supplementing the more familiar focus on facades and architecture, the talk will explore how the new style came to life not just in Bombay's iconic "picture palaces" but also offices, clubs, and homes across the city. 
About the Speaker
Dr. Abigail McGowan is Professor of History, and Associate Dean of the College of Arts and Sciences, University of Vermont. Her work lies at the intersection of material culture, politics, and everyday life in colonial South Asia. She has authored Crafting the Nation in Colonial India (Palgrave, 2009), which explores related issues of craft, consumption, and cultural expression during a period of nationalist development. She is also the co-editor of Towards a History of Consumption in India (Oxford University Press, 2010), which returns to the question of consumption in late colonial India. Dr. McGowan puts the home at the centre of the history of late colonial India to argue for a materially-grounded understanding of the social, cultural, and economic politics of this era. She makes a significant intervention in the scholarship on modernism by bringing women into the conversation through a study of advertising and exhibitions of modern homes directed at them. Her current research explores how the relationship between changing ideas about domestic space in early 20th century India affected town planning, architecture, consumption, and family life.
You may register for the talk here. Kindly join us for tea at 4.30 p.m.

- Prof. Mangala Sirdeshpande, Hon. Secretary,Asiatic Society of Mumbai
- Dr. Shehernaz Nalwalla, Chairperson, Mumbai Research Centre
- Atul Kumar, Trustee, Art Deco Mumbai Trust.