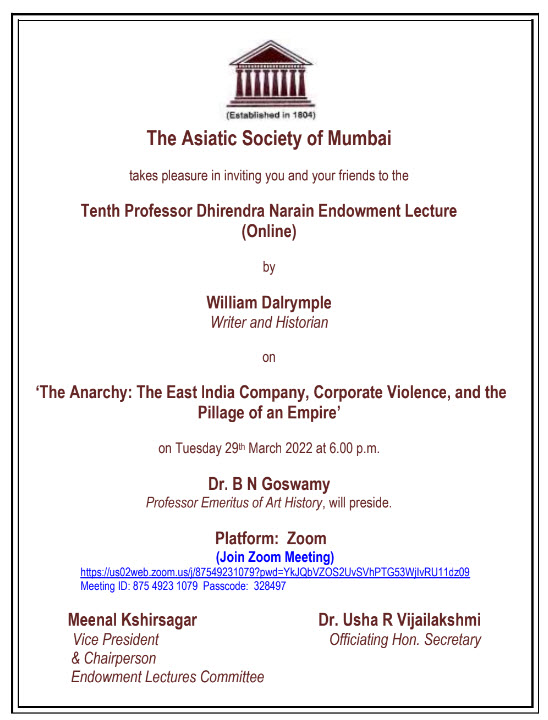 We are attaching an invitation for The Tenth Professor Dhirendra Narain Endowment Lecture (Online) by William Dalrymple, Writer and Historian, on 'The Anarchy: The East India Company, Corporate Violence, and the Pillage of an Empire.' The lecture will be held on Tuesday 29th March 2022 at 6.00 p.m. on Zoom.
Dr. B N Goswamy, Professor Emeritus of Art History, will preside at this online lecture.
The Zoom link for the lecture is given below:|

Join Zoom Meeting
https://us02web.zoom.us/j/87549231079?pwd=YkJQbVZOS2UvSVhPTG53WjIvRU11dz09
Meeting ID: 875 4923 1079
Passcode: 328497

You are requested to attend the online lecture.
- Dr. Usha R Vijailakshmi, Officiating Hon. Secretary
- Meenal Kshirsagar, Vice President of the Society & Chairperson, Endowment Lectures Committee
The 12th B.G. Deshmukh Endowment Lecture (Online)
Wednesday 2nd March 2022 at 6.00 p.m. (Online on Zoom):
The 12th B.G. Deshmukh Endowment Lecture (Online) by Professor Bharat Karnad, Distinguished Fellow, United Service Institution of India and Emeritus Professor in National Security Studies Centre for Policy Research, New Delhi, on "India's Geopolitics: What should be done to strengthen it?" Mr. Shivshankar Menon, Visiting Professor Ashoka University and Former National Security Advisor & Foreign Secretary, will preside at this online lecture. The Zoom link for the lecture is given below:
Join Zoom Meeting
https://us02web.zoom.us/j/86782684225?pwd=QjRmeWR2bE5kN094ejZDY0VQSDJqUT09
Meeting ID: 867 8268 4225 Passcode: 362322
The 24th Gulestan & Rustom Billimoria Endowment Lecture (Online)by Professor Vasant Shinde 
Wednesday 23rd February 2022 at 6 p.m. (Online on Zoom)
The 24th Gulestan and Rustom Billimoria Endowment Lecture (Online) by Professor Vasant Shinde, Archaeologist & Former Vice Chancellor Deccan College Pune, Researcher, Genetic Studies, on 'Recent Archaeogenetic Research on Peopling and Early Genetic Dispersal in South Asia.' Shri Sanjeev Sanyal, Principal Economic Adviser Department of Economic Affairs, Ministry of Finance New Delhi, will preside at this online lecture. The Zoom link for the lecture is given below:
Join Zoom Meeting
https://us02web.zoom.us/j/83788474103?pwd=eGtHczZuUVNDYnVld3FaenQ0YXU1Zz09
Meeting ID: 837 8847 4103 Passcode: 945846